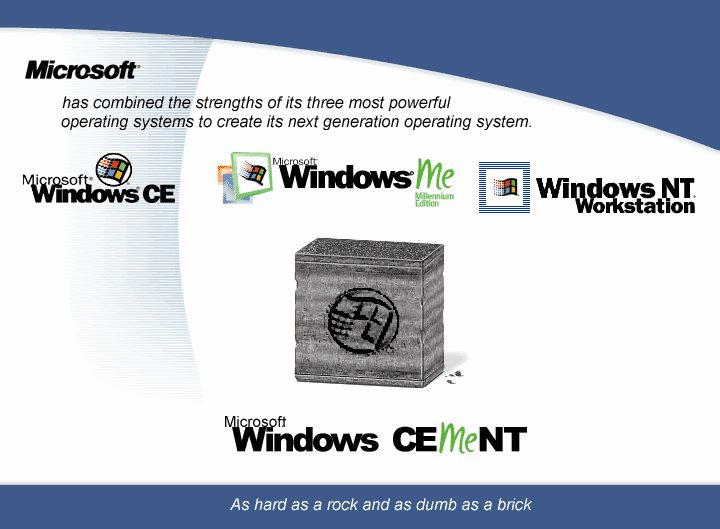 Created by Rob Woolley. Made in The GIMP.
Original pic found @ http://www.geocities.com/rcwoolley/
Disclaimer: Windows CE, Windows ME, and Windows NT are registered trademarks of Microsoft. "Windows CEMENT" is nothing more than a fictional creation and any resemblance to any past, present, or future trademarked product is purely coincidental.
A personal note to the one guy who sent me the vicious e-mail and anyone else who takes personal offense to this: This cartoon is just meant to be a joke. I've heard many stories of techies around the world posting this in their local work areas and can imagine that this is happening even at Microsoft. I am not directly slandering the company or any of the products, just a totally fictional construct of my own.
UPDATE: Evidently this is being massively passed around at Microsoft. The guy who sent the flame said that he'd sent an e-mail to Microsoft so that they would sue me. All he managed to do was make it even more popular. ROFL
Week1 | Week2 | Week3 | Week4 | Week5 | Week6 | Week7 | Week8 | Week9
Questions or comments about the pic? Wanna request a pic be posted? Send it here.
Then e-mail me at: SlipKnot_4_20@hotmail.com